We manufacture labels that increase the value of products, both in beauty and in functionality.
Our Research & Development Dept. designs innovative solutions based on specific clients' needs.
We work with six elements: the material, the surface, the ink, the adhesive, the liner and the RFID communication chip and owns all kinds of printing machines.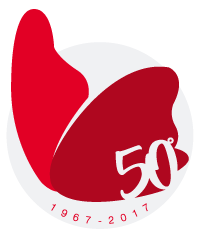 In 2017 we celebrate our 50 years of activity, years made of passion, values, grow and extraordinary people.
Mission
Simplifying end-users' everyday life, even though they would probably not realize thay're taking advandage of our solutions.
Give esthetic and functional value to our clients' products through innovative and high quality solutions that fully satisfy their needs.
1989
First self-adhesive labels for enology
1992
First "Label-Book" (multi-page label).
1993
Rototac, first semi automatic machine to apply labels and lot marking.
2001
First RFID labels produced for the pharmaceutical industry.
2006
First RFID antenna completely designed and manufactured in Rota (Tag on Metal), unique example in the world.
The RFID dept. is created (for the Radio Frequency Identification).
2007
First RFID Harsh Environment labels (Oil & Gas industry).
2010
Rotas Tak™, the first label for wet surfaces is produced. It can be applied on bottles maintained at a 4°C temperature and also on manufactured products in wet cement.
Rotas Pipe, RFID system for medical compounds, is created.
Rotas Italia becomes a Technological Member of the INDICAM association (institute for the protection and the identification of authentic brands and for the fight against counterfeiting).
2011
Rotas Building Tracking: tracking system for buildings is presented.
Rotas Art patent is registered, an innovative guide for exhibitions.
2012
NFC Tags integrated in business cards and labels to interact with smartphones.
2014
New patent (Italy and USA) and new production line.
2015
We take part at 7 international contests and win 7 medals. We obtain 2 new patents.
2016
Increase of the production area.
2017
Rotas celebrates its 50 years of activity!