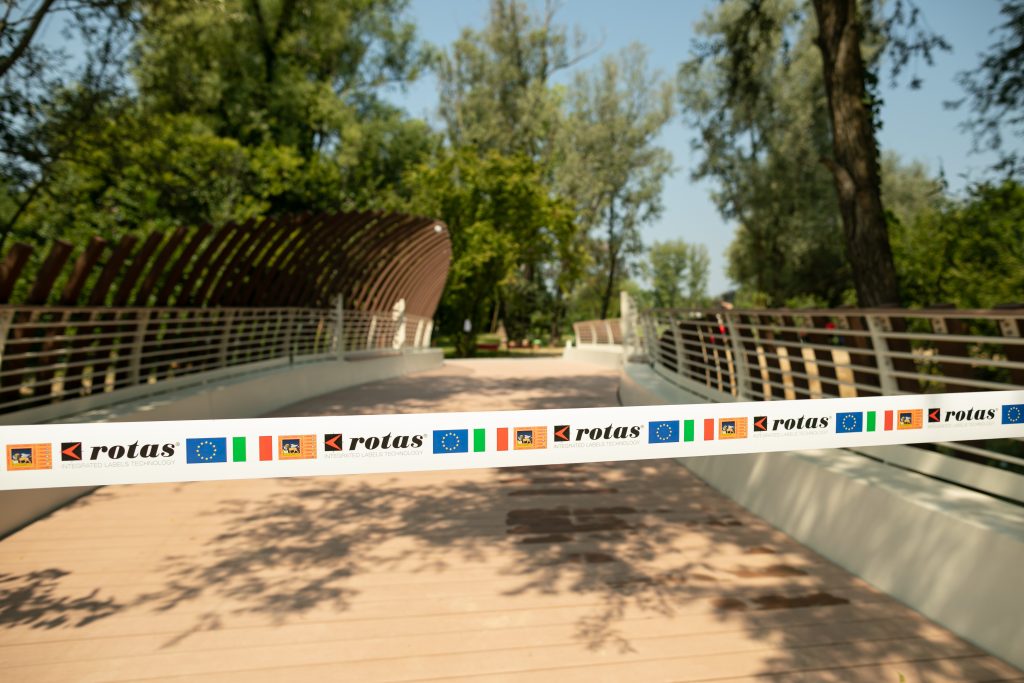 In a highly industrialized urban area, in the center of the city of Treviso, Rotas inaugurated the Rotas Park, recovering and reclaiming a degraded area right at the intersection of the Botteniga river, with transparent spring waters and the torrential Pegorile.
With 2 hectares of greenery and hundreds of trees, some of which are decades old, the Rotas Park produces 3,600kg of oxygen every year and absorbs 5,000kg of carbon dioxide, equivalent to producing about 4,000kg of paper, or making 10 car trips from Moscow to Lisbon.
The Park is connected to the headquarters by a drawbridge, made of steel and wood, which symbolically combines work and nature, conceived and designed by Eng. Prof. Enzo Siviero, one of the leading bridge experts, who enhances and enriches the landscape thanks to his simple but impactful architecture. He will participate in a worldwide competition on the subject.
This park will be available to employees, but not only to them, at any time: for a fresh lunch break, as an office in the open air, for a break, or at the weekend with families.
In this urban context, surrounded by thousands of apartments, even a skyscraper of more than 100m, with its 2 hectares of green tree-lined surface, it represents a truly extraordinary natural surprise.
This is an environmental commitment initiative that aims to continue the company's desire to adopt an ecological and nature protection approach, and which continues in the tradition of social commitment as well.
The moment of the inauguration was documented by various newspapers and was also appreciated and rewarded by the Municipality of Treviso: of the new 300 trees that were planted in the new park, in fact, 125, indigenous, are were offered by the municipal administration thanks to the "Adopt a Tree" project. Thisinitiativeaims to make the city of Treviso cleaner and more ecological, promoting the protection of the environment and, at the same time, the collective well-being of the community.
These values ​​fully reflect the vision of Rotas, which is committed every day to being a conscious and ecological company.
Share