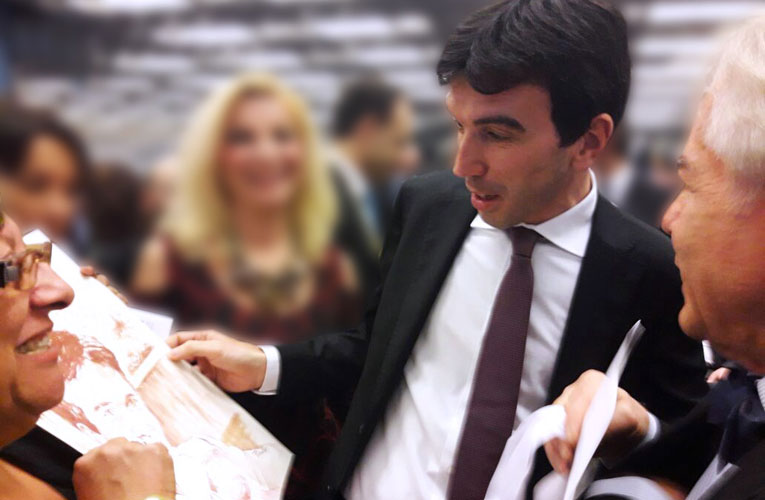 April 9-12, 2017
Hall F, Stand G5
Veronafiere
Rotas surprised Minister Martina
Rotas Italia: the art of wine in a portrait of Minister Maurizio Martina painted to celebrate 50 years of wine labels
Francesco Celante, founder of Rotas Italia, has given to the MP Martina a beautiful portrait of the Minister created by the italian painter Maria Teresa Pirillo with a singular raw material: the wine.
The painting was made with the watercolour technique and was depicted in an "unique label" printed with red wine, which was also given as a gift to the Minister, who joyfully accepted and said "now I will produce my own wine".
Il dipinto è stato creato con la tecnica dell'acquerello ed è stato riprodotto in "un'etichetta unica" stampata col vino rosso, andata in dono anch'essa al Ministro.
In addition to the red-wine-printed label, Enolitech will be the perfect chance to get in touch with other multi award-winning solutions: the label obtained from the lava of Etna volcano, the luminescent label, which lights up in the darkness, Biolabel, the eco-friently solution made of stone, the diamond label, the braille label and the last winner of the Grand Concours Packaging 2017 – Bordeaux "Femmes et vins de France".
Rotas Italia (Rotas Group), founded in 1967 by Francesco Celante, is a leader in the manufacturing of wine labels and a pioneer in this field, as the company built independently an entire machine to print autoadhesive paper reels.
Rotas is a cutting-edge firm for its technological innovation and know-how, which is the result of the Reasearch & Development department's work. The investments made in highly specialised human resources has made possible the formation an experts team which constantly studies new solutions in order to better represent the emotions that the label wants to transmit and to bring to life the passion of the winemakers.
Share