Winner of the Oscar of Printing
BEST LABEL PRINTER
The prestigious national recognition was conferred to Rotas Italia at the National Museum of Science and Technology "Leonardo da Vinci" in Milan.
The jury, made up of the largest national graphics experts, has taken into account multiple parameters in the awarding of the prize (ethical profile, technological and structural investments, attention to the environment, certifications, M & A accolades, widening of products/services, internationalization of the offer, visibility/adv/marketing campaigns, CSR Corporate Social Responsibility Initiatives, training) and expressed the following motivation: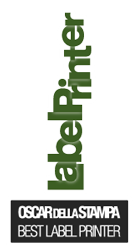 An Italian excellence capable of succeed in international markets, distinguishing itself in an extraordinarily selective global competition; like the Prosecco brand, the Treviso's "Marca" has conceived another extraordinary story: Rotas, an industrial polygraph group specialized in the production of labels.
Founded 50 years ago by Francesco Celante, it has been the protagonist of an original evolutionary path, animated since its birth by the desire to astonish and emerge. Celante has chosen both the path of innovation of the product and of the process, to the point of making the company's philosophy: to be a step forward, protagonists of innovation, daring, often facing unexplored territories.
And if the technologies are not available… they develop them on their own. For this reason, Rotas has a R&D Lab, which is why it joins research programs with Universities and International Research Centers, for which it constantly invests in the development of its own resources, primarily human resources.
In this cultural substrate innumerable patents deposited by Rotas have been developed, they concern all the components of the label, as well as the processes of transformation and interaction between them and the environment, pushing far beyond the physicality of the label to reach technologically advanced applications and cross-media integration for traceability and anti-counterfeiting.
And so, if the oenological sector remains the reference for the high demand for aesthetic and aesthetic solutions, technological innovation reveals to the indifferent curiosity of Francesco Celante and his vast and partly unexplored horizons in sectors such as pharmaceuticals , cosmetics, fashion and clothing, food, and industry.
In retiring the Oscars of the Press 2017 at the National Museum of Science and Technology Leonardo da Vinci in Milan, there were Francesco and Edoardo Celante, founder of Rotas Italia and AD of Rotas Iberica.
Share